SIVCO LABORATORY INSPECTION Application has been designed to:
Make laboratory inspection easy to maintain, conduct and follow up

Allow forms to be customized by EHS staff rather than IT or programming staff

Reduce stand alone applications by incorporating all types of inspection requirements and maintain data in a centralized safe location
The broad functionality of Laboratory Inspection is organized into key management areas:
General Lab Inspection

Biosafety Inspection

Radiation Safety Inspection

Other customizable Inspection

Facilities Management
It is important to know that each organization is building its own inspection sheets; therefore other inspection areas can be included easily.
The screenshot below demonstrates basic functionality list: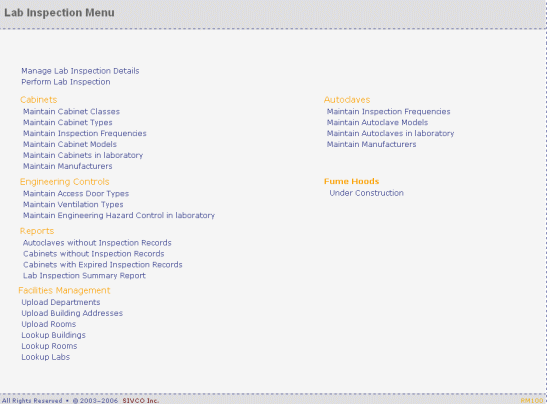 The institutions will fill out the inspection parameters and generate institutional inspection sheets. This requires some work at the beginning, but has a great benefit for the future. The flexibility provided by the system permits modification of the inspection form any time without programmer assistance.


Building the Inspection Sheet
Managing Lab Inspection Details assists the user to build all inspection sheets required for conducting Chemical, Biosafety and Radioactive laboratory inspections. The system maintains Biosafety Cabinet information (cabinet classes, cabinet types, cabinet models and manufacturer information), and Autoclave information with similar parameters. We also can maintain the inspection frequencies.

The screen below is a basic Lab Inspection Management screen where the user selected the General Lab Inspection functionality and that consequently displays additional selection, for example the selected Laboratory Postings category. Going through on each category the user builds the inspection sheet, which is used for chemical laboratory inspection.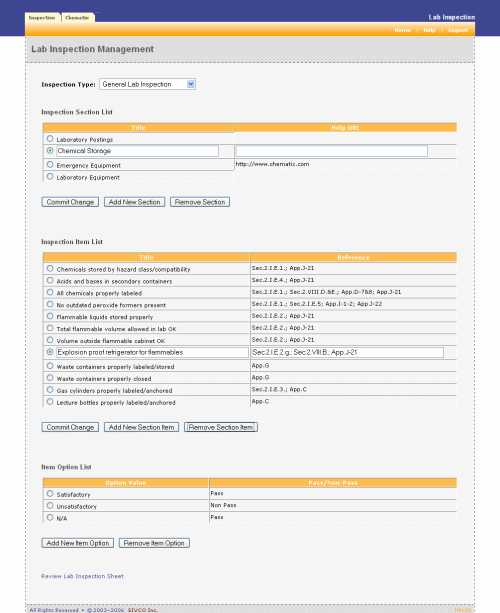 Selecting the Chemical Storage category the user will build the majority of the Chemical Lab Inspection sheet. The same sheet can be used for several years; however the update and modification capability is available.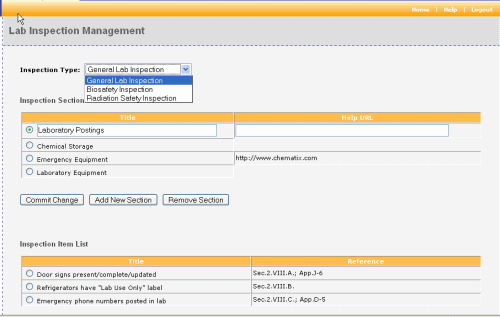 Facilities Management
The Facilities Management maintains information for buildings, laboratories and users. Additionally if the data is available the system stores lab supervisors and Principal Investigators (PIís) contact information. The user can upload building lists and rooms, laboratory names to the system or enter it in. The collected and managed facility data can be utilized with other EHS applications in the future.

Report Generation
Currently the system maintains the following reports:
Autoclaves without Inspection Records

Cabinets without Inspection records

Cabinets with Expired Inspection Record

Lab Inspection Summary Report - Downloadable to MS Excel (or comparable spread sheet)
The lab inspection summary report can be generated within a predefined timeframe.

System Parameters
Web based application accessible via web browsers (Internet Explorer, Mozilla Firefox, Safari) Supported operating environment: Windows, Linux

Upcoming upgrade under development: wireless device access, providing the capability of inputting all data during the inspection. For product review or demonstration please contact SIVCO at 877-700-2600 or contact@sivco.com.